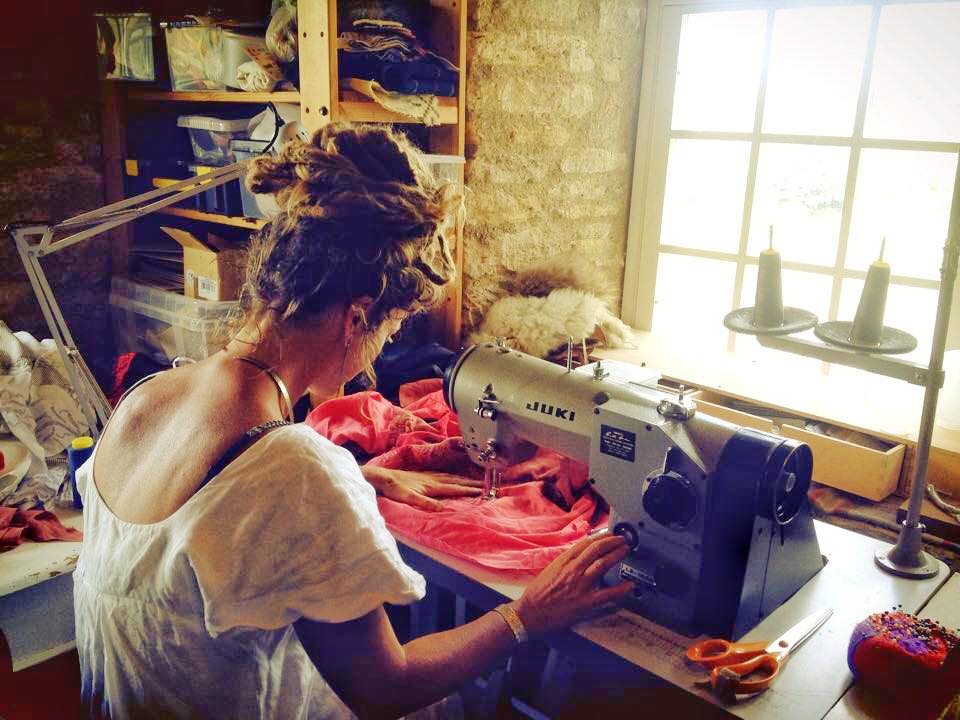 Interview Series: 'Inspiring Women Who Wear Haruka,' – Hayley Trezise
As part of our blog interview series; – 'Inspiring Women who Wear Haruka,' we would like to introduce you to Hayley Trezise. Hayley is an artist who founded her own fashion label -'Raggedy.' We currently stock Raggedy in the Glastonbury shop as the pieces perfectly layer and complement our own Haruka garments.
Hayley Trezise is an independent designer working under the label 'Raggedy'. Her work isn't of the ordinary but is ethical and raw with a playful nature that sticks out from the crowd. Her ragged display of 'scribble stitch' and asymmetrical sculptural shapes are created from charity shop clothes making one-off 'Quirky Couture' for all occasions from casual dress to adventurous party-wear.
Who are you?
My name is Hayley Trezise and I am an artist sculpting together unique wearable art. I am also a shamanic practitioner.

How do you spend your time?
I spend my time creating, being artistic with my hands, running my business, running between fairs and stockists gathering fabrics. In the other half of my life, I have my toes dipped in between two realities, ordinary and non-ordinary, working with spirits and delivering shamanic healing. On the whole, I live in an intuitive rhythm and flow.
What inspires you?
Being in nature. Growth, decay, rebuilding, destruction, rebirth, using waste, bringing something a new lease of life, the shapes of a female body, shapes, holes, dips, textures, bulges, tunnels, spaces, tweed, weaving mystical stories into my art, ritual magic, ceremonies, shamanic cultures, the unseen ones around us, humans and our behaviours.
What colour brings you joy?
Very oddly ad the moment pinks…..never have I worn pink in my life until this last few months and I must admit I am presently loving it. I even dyed my hair pink! But I would say generally I LOVE teals, pale blues, ocean colours; these give me the most joy.

Do you have a favourite item of clothing?
Even though they are my own design, I would say my high waisted trousers. Being a fashion designer creating unique wearable art, clothes come and go and I like to mix match the oddities in my wardrobe and some days I feel fab in an outfit and another day that same outfit I could wince at, all depends on the mood I am in that day, also goes for colour, some days I want to be vibrant and awake and others I want to be invisible and comfortable.

What is your favourite item from Haruka?
Almost every time I go deliver my Raggedy stock to Haruka, my eyes are wide and full of excitement and I end up walking away with a Haruka item. If I must limit, there are two items I love the most and one is my blue frock coat, it brings a classy look but also a quirky look when styled with other quirky items. The other is my handwoven shawl…my gosh I just love it, I have used it for many occasions, like wrapping myself up with a sophisticated look when dinning, to snuggling into it on a sofa, but the main use for it is when I am doing anything ceremonial, it is practically warm so I can wrap it around me, or have it as a blanket over me or to lay on. It also holds a renascence of sacredness, partly because of what I have infused in it with my shamanic work but also because it is delicately handwoven piece by piece by one person from Amanda's team in India, so it holds an extra magical imprint for me. I would buy more without a doubt!

How important is clothing to you as a medium of self-expression?
Hugely important, it is what my brand Raggedy is mainly about. It's slow fashion, timeless, ageless, trans-seasonal and my slogan is;
'dress like nobody's judging'
For me high street, fast shop fashion is a big NO-NO, not only do we have no direct thread or knowledge of wear that item is produced or who made it and what chemicals it produced to create it but I also feel we lose a bit of our identity because a lot of us are influenced from mainstream seasonal fashion that says "this season 'We should' wear this to 'Fit in'". My message and passion is the absolute opposite, stand out and be proud, wake up in the morning and put on whatever makes you feel good, not what makes others feel good. If it's a T-shirt and jeans or a silver jumpsuit then simply make that choice and express you, be YOUR beautiful self, and step up from the fear of anyone's possible judgement.
We are all unique and in my eyes, there is beauty in every person so – be that unique person! Clothes are the physical face of who we are, even before we open our mouths so if we can be brave and dress to express ourselves then I celebrate that! Clothes are a great expression of moods too like I mentioned about earlier. Sometimes we just want to be comfy and sometimes we want to be alive or sometimes we feel a little sad and want picking up so we go put a pretty dress on and splash a little makeup to pick us up a little. I think I have made my point about passion on this topic!
You can keep up with Hayley and Raggedy by following her facebook page and website.
We love sharing these posts celebrating the strong, inspiring women in our Haruka community! Thank you for reading the blog and watch this space for more uplifting conversations in the near future. Xx